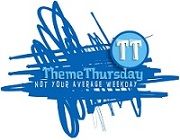 I'm keeping it short and sweet today.
I don't have a lot of opinions about Superheroes. Sure, I enjoy movies and shows about them, but I've never been one to pick a favorite. Pirates are more my thing. If you couldn't tell.
But I do believe that there are real life people that embody the idea of what a Superhero should be, and stand for. Lending a hand in times of crisis, being a well of support for others, living life to the fullest despite limitations you or those around you may have, and looking on the bright side and being grateful for the positives despite a storm of negatives.
Which is why today I just want to share this little FB page with you, created by my friend Janelle, to chronicle the journey of her baby boy born with a heart condition and support other families dealing with Chronic Heart Disease.